What's up everyone! I just came back from a quick trip to NYC and I was so excited to share some of my favorite eats while I was in the Big Apple. I had a long list of places I wanted to try, but unfortunately, I was barely able to hit even just a few of them. That just means I'll have to make a second trip sometime soon ;) Here's some of my fav's that I had during my short time there:
1. Shake Shack
If you're from California, you're more than likely to be a loyal customer of In n Out's. In New York, it's the exact same situation, but it's Shake Shack! However, Shake Shack is very different from the popular burger chain back in the West Coast.
I usually order the simplest burger- the Shackburger.
First off, the bun is soft and sweet. More specifically, it reminds me of Hawaiian bread rolls. One end of the bun is actually not cut all the way through so it's stuck together so your entire burger won't fall apart. Ingenious, right? The patty is delicious because it's juicy and extremely flavorful. Add in the tomatoes and lettuce and you have a nice crunch to the burger. As much as I love the Shackburger, what really won my heart over were the fries. I usually dislike crinkle fries because they remind me of soggy cafeteria lunch fries from back in middle school. Instead, Shake Shack's fries are really crispy and lightly salted on the outside, yet soft and moist on the inside. I could easily eat an entire tray of those fries without even realizing it! It's the perfect complement to a tasty burger.
2. Momofuku Milk Bar
Let's take a trip back down memory lane. Remember when you were just a kid having cereal for breakfast (or dinner, whatever floats your boat!) and you had just finished eating all the cereal? The remains would be a colorful bowl of milk mixed with all the random food coloring from the cereal. To me, this was the best part. I hated drinking actual milk because it tasted gross, but with the sugary goodness now all infused into the milk, it was as if I was just drinking liquid cereal! Now imagine this taste but in a soft serve ice cream. To me, it brings back another childhood memory because it reminded me of the Horlick's malted beverages that I used to drink all the time. The soft serve idea was creative because it captures the exact taste in the perfect form because who doesn't love ice cream?! The corn flakes was a delicious add on, giving the dessert a crunchy texture. Even though the cup looks tiny, there's actually a generous serving of soft serve. I was about to throw the rest away because I was too full until I found out that there was a big layer of more corn flakes on the bottom!
3. Grom
Gelato and sorbet with no food coloring, no preservatives, no additional flavorings, and the freshest ingredients from all over the planet? Sign me up!! I had this on the last night I stayed in NY because it was so hot and I wanted to explore the city one last time. Since this was in a convenient location near the hotel, I decided to give this a try. I was so stunned by how rich the flavors were! I had the peach and lemon sorbet, while my boyfriend tried the tiramisu and chocolate gelato. I was afraid the lemon sorbet would be too sour but it was surprisingly refreshing, like a cup of lemonade. The peach was perfectly sweet and tasted great with the lemon sorbet. The gelato was extremely smooth! It was so flavorful and pure in taste. My boyfriend even said that it was the best gelato he's ever had. I don't usually like chocolate but even I thought it was pretty good! So glad I stumbled upon this place because it was a great end to the trip!
4. Nippori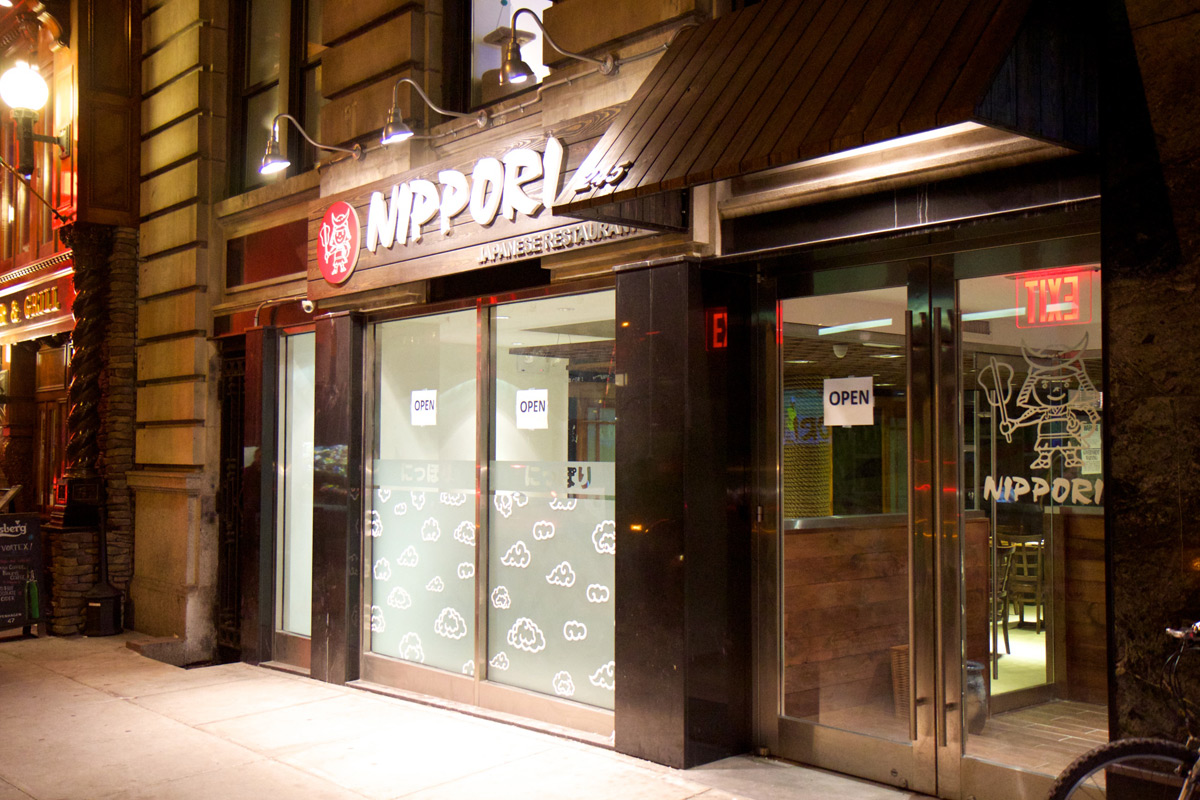 The line at Ippudo Ramen was way too long so I decided to try this place instead. Upon entering, you can definitely tell this place has an authentic feel from the way the servers greeted us and how the place was decorated. For appetizers, we ordered the hamachi kama, and it was one of the best I've ever had. It was lightly salted and tasted absolutely fresh. It was so tasty that we eventually had to order two! For dinner, I had the Asari ramen, which was clams with butter in a chicken based broth. It was my first time having this kind of ramen, as I was mostly used to having Tonkotsu ramen or something with a pork broth, but this ramen exceeded my expectations! The soup was so clear tasting and not too salty at all. I was a bit skeptical about the butter + clam situation but there wasn't too much butter and it melted in the soup anyways to give it a more creamy flavor. As for the clams, this place gives generous portions so there's plenty of clams to go around. The noodles were fresh tasting and delicious as well. I definitely would love to come back here if I'm ever in the area!